Traditional Foods of Sumbawa Regency, West Nusa Tenggara Province
---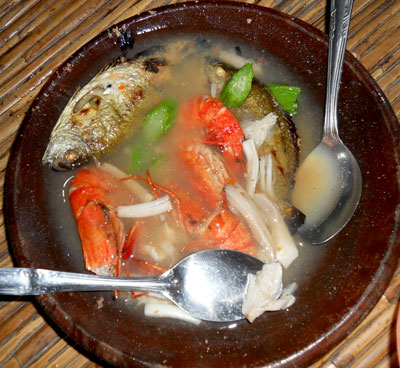 One of the best things to do in Sumbawa Regency is to enjoy the culinary. The only problem is the insufficient information regarding food options. Well, tourists can find many types of foods when exploring Sumbawa, after all. The most common one is made of fishes especially Singang! As for the non-fish-based foods, tourists may find several delicious foods like Gecok, Manjareal, Bubur Palopo, and much more! Each of them has a distinct taste and texture, as well. No wonder, all tourists are likely to try them all when visiting Sumbawa Regency later.
Where to Get Them
Before talking more about Sumbawa's traditional foods, tourists need to know how to get them first. When it comes to simplicity, tourists can order the foods directly from the hotel where they are staying at. It is indeed efficient, but the price is considered expensive. As an alternative, tourists must explore some parts of the downtown to find local eateries. The first benefit is the cheaper price. Another benefit is related to the nuance. They have the chance to eat together with the villagers and talk to them in a friendly manner.
More about Traditional Foods of Sumbawa Regency
Many options of traditional foods are available in Sumbawa Regency. Tourists only need to find the right place to get them, in this case. The first option is called Singang, which is made of fresh local fish. Mostly, the locals use either snappers or milkfish when cooking. The taste would definitely savory! Not to mention it involves spicy flavoring! No one would refuse to eat Singang twice, no? As for the extra, tourists can eat it with rice, sago, etc.
The next recommended food to try when visiting Sumbawa Regency is called Sepat. This one also uses local fishes as the main ingredient. The local may grill the fish and pour delicious sauce on it. They also put several complements like sliced cucumbers and tomatoes. It emits a fresh taste, therefore. Next, there is Gecok! This one uses beef instead of fishes, though. After frying, the locals stir the meat along with other ingredients. The taste is both fresh and sour!
What is more? Sumbawa Regency is also known for its Bubur Palopo or buffalo porridge. Instead of using coconut milk, this one uses fresh buffalo milk! It also involves brown sugar and other unique ingredients. As for the taste, it is both sweet and savory. Well, more traditional foods are available to try in Sumbawa later. Tourists should carry extra cash to try them all, therefore!
Nearby Attractions

Istana Dalam Loka
Seketeng Market
How to Get There
In order to try all those foods, tourists need to visit Sumbawa Regency right away. If they come from Jakarta City, it is recommended to take an airplane to get to the destination faster. For the information, the flight may take around 4 hours and 5 minutes to Sultan Muhammad Kaharuddin Airport. After reaching the destination, they can simply visit some recommended local eateries and order some great foods cheaply. In order to find the right place, they can ask a local guide or nearby villagers, actually.
Where to Stay

Dian Hotel
Dewi Hotel
Samawa Rea Hotel

Latest News
Of the many tourist destinations in West Lombok Regency, West Nusa Tenggara, Mekarsari Narmada Park offers interesting tour packages. Tourists can try the Tri Sunah activity tour package. The Tri Sunnah are swimming, horse riding and archery. Mekarsari Narmada Park originated from the desire of local residents to take advantage of the existing agricultural potential. The management has built a new swimming pool on resident's land of 2,500 square besto the ide Pecatu village land of 4,500 square meters. The village land was turned into a park equipped with archery…
---
Kenawa Hill in Sumbawa Regency, West Nusa Tenggara Province Sumbawa Regency is part of West Nusa Tenggara Province and it consists of both land and sea natural attractions. The region even features an archipelago where many beautiful gilis or small islands reside. Kenawa Island is one of them and it is known for both the stunning sea and the famous Kenawa Hill. That means tourists should head to the island first if they want to explore and get on the top of the hill. At that spot, they can enjoy…
---
Sumbawa Regency is part of West Nusa Tenggara Province and it consists of both land and sea natural attractions. The region even features an archipelago where many beautiful gilis or small islands reside. Kenawa Island is one of them and it is known for both the stunning sea and the famous Kenawa Hill. That means tourists should head to the island first if they want to explore and get on the top of the hill. At that spot, they can enjoy several tourist activities like sightseeing, photography, camping, and short…
---
Well, some tourists are likely to look for unique vacation spots over time. It is because they want to get a new experience during the holidays. In this case, Sumbawa Regency offers Batu Bulan Dam! As the name suggests, the dam resides in Batu Bulan Village and it belongs to Moyo Hulu Sub-District. In terms of function, it is similar to other dams for sure. One thing that makes it different is related to the nuance. The beautiful landscape and merry atmosphere lure more people to enjoy sightseeing, photography, fishing,…
---