Maluk Beach in Sumbawa Regency, West Nusa Tenggara Province
---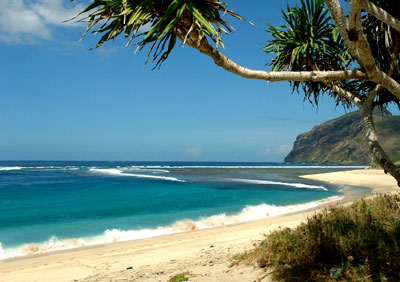 A vacation to Sumbawa Regency may give tons of fun and new experience to tourists. It gives lots of information regarding cultures and satisfaction when it comes to a natural exploration. For those who are into beaches, in this case, they should not miss the chance to visit Maluk Beach! The location is in West Sumbawa and it is known for its exotic panorama. The beach belongs to Jereweh Sub-District, which is near to Taliwang. People usually come to the site for numerous activities including beach walking, crab hunting, sunrise watching, and even surfing!
The Nuance
Maluk Beach has a peaceful nuance despite the high number of visitors. The shoreline features a white sandy landscape and the texture is quite soft. It looks faultless, in fact! Most of the time, several crabs and sea urchins are seen on it. Next, the beach also features two stunning hills that flank it. No wonder, the waves are calm and safe for swimming. In some parts of the sea, though, the waves are bigger and suitable for surfing. What is more? Another feature is none other than the sunrise that appears behind Mantun Hill!
Exploring Maluk Beach
Maluk Beach has become locals' recommended vacation spot to enjoy a family recreation. Many people are also interested to visit the beach due to the facilities. It is because visitors may find good places to relax and several food stalls that sell numerous types of local foods and drinks. Eating delicious foods while watching sea scenery is a perfect way to spend a vacation, no? The best thing is the price of those foods is quite affordable!
After eating and sightseeing, the next thing that tourists can do in Maluk Beach is to watch Tukik (small sea turtles) conservation. Tourists would be lucky if they are able to witness the release procedure. Once the sea turtles reach the minimum age to get to the sea, the caretakers would release them carefully to the shore. This process looks beautiful, somehow. The problem is tourists are not able to see this moment every day.
What is more? Visitors can spend their money to rent a canoe and explore the calm sea in a safe manner. The rent fee is cheap, so don't worry. For those who love surfing, they should reach a certain spot where the waves are stronger. Fortunately, both beginners and experts are able to enjoy surfing there. Beginners should only surf near to the coastline due to the safer waves, though. For experts, they can go further to the midst of the sea (across Ahmad Cape) to experience stronger and taller waves that reach up to 2 meters in height!
Nearby Attractions

Mantun Hill
Benete Beach
Sekongkang Waterfall
How to Get There
From Soekarno – Hatta International Airport in Jakarta City, tourists can directly head to Sumbawa Besar City by airplane. Their destination is Sultan Muhammad Kaharuddin III and this flight may take around 4 hours and 5 minutes. After arriving at Sumbawa, the next destination is Jereweh Sub-District where the beach is located. For the faster trip, it is recommended to take Lintas Sumbawa Street, though.
Where to Stay

Felix Palace
Dreamtime Sumbawa Homestay

Latest News
Of the many tourist destinations in West Lombok Regency, West Nusa Tenggara, Mekarsari Narmada Park offers interesting tour packages. Tourists can try the Tri Sunah activity tour package. The Tri Sunnah are swimming, horse riding and archery. Mekarsari Narmada Park originated from the desire of local residents to take advantage of the existing agricultural potential. The management has built a new swimming pool on resident's land of 2,500 square besto the ide Pecatu village land of 4,500 square meters. The village land was turned into a park equipped with archery…
---
Kenawa Hill in Sumbawa Regency, West Nusa Tenggara Province Sumbawa Regency is part of West Nusa Tenggara Province and it consists of both land and sea natural attractions. The region even features an archipelago where many beautiful gilis or small islands reside. Kenawa Island is one of them and it is known for both the stunning sea and the famous Kenawa Hill. That means tourists should head to the island first if they want to explore and get on the top of the hill. At that spot, they can enjoy…
---
Sumbawa Regency is part of West Nusa Tenggara Province and it consists of both land and sea natural attractions. The region even features an archipelago where many beautiful gilis or small islands reside. Kenawa Island is one of them and it is known for both the stunning sea and the famous Kenawa Hill. That means tourists should head to the island first if they want to explore and get on the top of the hill. At that spot, they can enjoy several tourist activities like sightseeing, photography, camping, and short…
---
Well, some tourists are likely to look for unique vacation spots over time. It is because they want to get a new experience during the holidays. In this case, Sumbawa Regency offers Batu Bulan Dam! As the name suggests, the dam resides in Batu Bulan Village and it belongs to Moyo Hulu Sub-District. In terms of function, it is similar to other dams for sure. One thing that makes it different is related to the nuance. The beautiful landscape and merry atmosphere lure more people to enjoy sightseeing, photography, fishing,…
---