Istana Bala Kuning in Sumbawa Regency, West Nusa Tenggara Province
---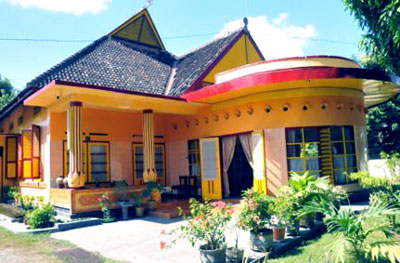 One of the motives to visit Sumbawa Regency is to learn and explore historical sites. The problem is many tourists don't have enough information regarding the places. As for the reference, in this case, tourists can visit Istana Bala Kuning. Some people call it Bala Kuning Palace, actually. The location is in Brang Bara Village and it has the same popularity as other local palaces which are Istana Putih and Dalam Loka. In terms of name, "Kuning" means yellow. As people may expect, the building has a yellow color (which is the iconic color of Sumbawa Sultanate).
The Nuance
The yellow color makes Istana Bala Kuning outstanding as compared to nearby buildings. No wonder, tourists can notice it easily regardless of where they come from. The design is common, but it features a half-rounded construction that resides in an upfront part of the building. The next noticeable feature is related to the environment. The site has a stunning small park and several potted plants, as well. Not to mention the site is clean and neat! The soothing atmosphere even soothes all visitors.
Exploring Istana Bala Kuning
Once arriving at Istana Bala Kuning, tourists can start enjoying the nuance. Thanks to the serenity and clean environment. Somehow, the atmosphere helps visitors to relax and get rid of stresses! Still, the best experience comes once tourists getting in the building. Actually, in the past, it became the house of a Sultan. No wonder, tourists may feel a distinct nuance as compared to other buildings.
Istana Bala Kuning also has other function, which is to store or keep Sumbawa Sultanate's heirlooms. These include Parewa Kamutar, honor clothes, weapons, Parewa Tokal Adat Ode, and much more! The good thing is tourists are allowed to watch and explore these items freely. What they must avoid is to touch or cause damages to those valuable objects. What is more? During the exploration, they may see other items like historical photos, food utensils, and much more! Thus, everyone should ensure to get around the palace thoroughly.
Here is an important tip. Tourists should hire a tour guide who can tell complete information and history related to the building. Even though they need to spend some money to pay for the service, it would be a worthy expense. It is hard to know the background and history of all items stored inside the building, after all. Another tip is that tourists should consider visiting the site during regular days. The purpose is to avoid the crowd and to get a more comfy nuance to conduct an exploration.
Nearby Attractions

Istana Dalam Loka
Jam Gadang
How to Get There
From Jakarta City (Soekarno – Hatta International Airport), tourists may spend about 4 hours and 5 minutes to get to Sultan Muhammad Kaharuddin III Airport in Sumbawa Regency. After arriving at the destination, they should take a reliable local transportation service and head Istana Bala Kuning right away. The distance is only 2 km, so the trip doesn't take long at all. As for the best route, it is Diponegoro Street.
Where to Stay

Dewi Hotel
Samawa Rea Hotel
Tambora Hotel

Latest News
Of the many tourist destinations in West Lombok Regency, West Nusa Tenggara, Mekarsari Narmada Park offers interesting tour packages. Tourists can try the Tri Sunah activity tour package. The Tri Sunnah are swimming, horse riding and archery. Mekarsari Narmada Park originated from the desire of local residents to take advantage of the existing agricultural potential. The management has built a new swimming pool on resident's land of 2,500 square besto the ide Pecatu village land of 4,500 square meters. The village land was turned into a park equipped with archery…
---
Kenawa Hill in Sumbawa Regency, West Nusa Tenggara Province Sumbawa Regency is part of West Nusa Tenggara Province and it consists of both land and sea natural attractions. The region even features an archipelago where many beautiful gilis or small islands reside. Kenawa Island is one of them and it is known for both the stunning sea and the famous Kenawa Hill. That means tourists should head to the island first if they want to explore and get on the top of the hill. At that spot, they can enjoy…
---
Sumbawa Regency is part of West Nusa Tenggara Province and it consists of both land and sea natural attractions. The region even features an archipelago where many beautiful gilis or small islands reside. Kenawa Island is one of them and it is known for both the stunning sea and the famous Kenawa Hill. That means tourists should head to the island first if they want to explore and get on the top of the hill. At that spot, they can enjoy several tourist activities like sightseeing, photography, camping, and short…
---
Well, some tourists are likely to look for unique vacation spots over time. It is because they want to get a new experience during the holidays. In this case, Sumbawa Regency offers Batu Bulan Dam! As the name suggests, the dam resides in Batu Bulan Village and it belongs to Moyo Hulu Sub-District. In terms of function, it is similar to other dams for sure. One thing that makes it different is related to the nuance. The beautiful landscape and merry atmosphere lure more people to enjoy sightseeing, photography, fishing,…
---