Kertasari Beach in Sumbawa Regency, West Nusa Tenggara Province
---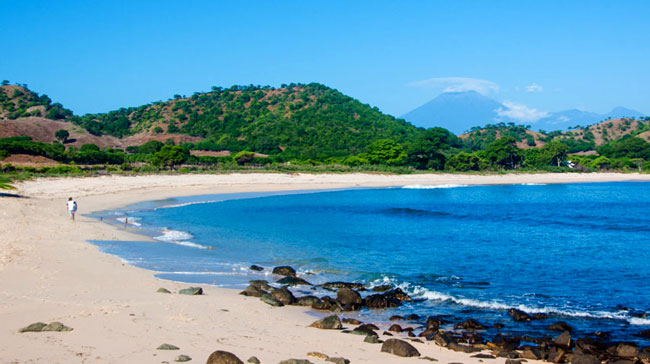 For those who are familiar with Sumbawa Regency, they may know some good beaches to visit during the holiday. As for the reference, there is Kertasari Beach. As the name suggests, it is located in Kertasari Village and belongs to Taliwang Sub-District. The various beautiful landscapes make the beach popular among those who love photography and sightseeing. Visitors also have the chance to meet local fishermen who live in that area, too! They would be lucky if they are allowed to ride the fishermen boat and join fishing in the sea!
The Nuance
The nuance is too quiet due to the low number of visitors, especially during regular days. Kertasari Beach has a soft-textured sandy shoreline and lush coconut trees! This is why the site is comfy enough for several tourist activities like beach walking and relaxation. As for the sea, the water looks calm and comes in small waves. The crystal clear and refreshing water lures everyone to enjoy swimming, for sure. Not to mention lots of fishes live in that area, so the beach is suitable for fishing too! Do not forget the fact that a local fisherman village resides nearby as well.
Exploring Kertasari Beach
Well, tourists can do many fun things in Kertasari Beach. It is as simple as sightseeing and beach walking. Thanks to the soft-textured white sandy beach. It feels great walking on it either by footwear or by foot. For the more comfortable nuance, in this case, tourists should enjoy beach walking either in the morning or afternoon. At these times, they even have the chance to witness the sunrise or sunset! This provides them with the chance to conduct photography, as well.
The serenity becomes the next reason why tourists keep coming to Kertasari Beach. Lush mangroves, white shoreline, and calm sea are some amazing attractions that tourists can enjoy during the visit. Not to mention the wind feels breezy and warm, which helps visitors to relax and get rid of stresses. After enjoying the nuance, it is better to reach the local fisherman village and meet friendly villagers. For lucky tourists, they are able to conduct fishing in the sea along with those fishermen!
Have no worries. Tourists only need to carry a fishing rod and other required equipment in order to enjoy fishing. Later, they should watch or join villagers who work in the sea to cultivate seaweeds! It is even possible to buy some of them with a cheaper price! It gives everyone an opportunity to learn how to cultivate seaweeds actually.
Nearby Attractions

Batu Rengala Beach
Balad Beach
How to Get There
Even though it is easy to reach Kertasari Beach, tourists may spend a long trip to get there. From Jakarta City, for example, they need to spend about 4 hours and 5 minutes to reach Sumbawa Regency by airplane (from Soekarno – Hatta International Airport to Sultan Muhammad Kaharuddin III Airport). After reaching Sumbawa Besar City, their next destination is Kertasari Village at Taliwang Sub-District where the beach is located. This trip may take about 2 hours and 35 minutes, as the distance is 114 km.
Where to Stay

Whales and Waves
Sollo-Sollo Homestay

Latest News
Of the many tourist destinations in West Lombok Regency, West Nusa Tenggara, Mekarsari Narmada Park offers interesting tour packages. Tourists can try the Tri Sunah activity tour package. The Tri Sunnah are swimming, horse riding and archery. Mekarsari Narmada Park originated from the desire of local residents to take advantage of the existing agricultural potential. The management has built a new swimming pool on resident's land of 2,500 square besto the ide Pecatu village land of 4,500 square meters. The village land was turned into a park equipped with archery…
---
Kenawa Hill in Sumbawa Regency, West Nusa Tenggara Province Sumbawa Regency is part of West Nusa Tenggara Province and it consists of both land and sea natural attractions. The region even features an archipelago where many beautiful gilis or small islands reside. Kenawa Island is one of them and it is known for both the stunning sea and the famous Kenawa Hill. That means tourists should head to the island first if they want to explore and get on the top of the hill. At that spot, they can enjoy…
---
Sumbawa Regency is part of West Nusa Tenggara Province and it consists of both land and sea natural attractions. The region even features an archipelago where many beautiful gilis or small islands reside. Kenawa Island is one of them and it is known for both the stunning sea and the famous Kenawa Hill. That means tourists should head to the island first if they want to explore and get on the top of the hill. At that spot, they can enjoy several tourist activities like sightseeing, photography, camping, and short…
---
Well, some tourists are likely to look for unique vacation spots over time. It is because they want to get a new experience during the holidays. In this case, Sumbawa Regency offers Batu Bulan Dam! As the name suggests, the dam resides in Batu Bulan Village and it belongs to Moyo Hulu Sub-District. In terms of function, it is similar to other dams for sure. One thing that makes it different is related to the nuance. The beautiful landscape and merry atmosphere lure more people to enjoy sightseeing, photography, fishing,…
---