Moyo Festival in Sumbawa Regency, West Nusa Tenggara Province
---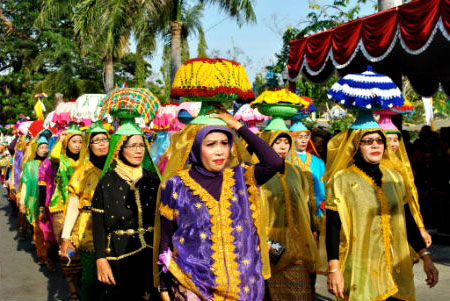 Sumbawa Regency never runs out of vacation spots for tourists to explore regardless of the time, including regular days and holidays. Still, the region offers more than those beautiful places. It is because tourists can also enjoy cultural attractions and festivals! One of them is called Moyo Festival. This art and culture festival is done yearly, so tourists can either watch or join it without hassles. They only need to find out the schedule before visiting Sumbawa later. As the name suggests, it derives from Moyo Island in Indonesia. Despite the name, the festival doesn't happen in that island though. Overall, the festival is known among both locals and foreigners!
The Nuance
The popularity is excellent and the nuance is merry! Lots of people join the event, including the participants, tourists, and local audience. For the information, the festival consists of several processions and it even features a parade on the street. The participants wear colorful attires and beautiful ornaments. Some of them even ride a horse! As for the parade, it consists of several groups and each of them represents a certain culture or art. The front person carries the name sign, as well.
Exploring Moyo Festival
Tourists should know that Moyo Festival consists of a series of activities. Thus, it may take some time to watch all the procession. Have no worries. Tourists are allowed to leave the festival at any time. So, what is the most interesting part of it? Some people are likely to enjoy Sagembang Baguba Dance while others want to watch some processions like a cultural parade, small businesses expo, drum band competition, main jaran, and much more. This is why tourists are allowed to join the festival only during their most favorite series of activities.
During the festival, a unique expo occurs which is called Stand Adventurous. Tourists should not miss it, therefore. The next popular activity is called "Pentas Teater" or theater stage. Many local kids perform it cutely and happily, but the nuance feels solemn! No wonder, the audience won't leave the performance until it's done. It is also allowed to take photos while enjoying Moyo Festival freely! Thus, do not forget to carry one.
What is more? There is also Sakeco, which is the opening seminar. During the procession, some dancers perform beautifully and they even sing a folklore song after dancing. They use the Sumbawa Language during the procession, without a doubt. Well, with all these activities, it is likely tourists won't leave the festival before it ends, no?
Nearby Attractions

Istana Dalam Loka
Splash Waterpark
Wisata alam Semongkat
Batu Bulan Dam
How to Get There
In order to watch Moyo Festival directly, tourists need to reach Sumbawa Regency first. If they come from Jakarta City by airplane, in this case, they need to spend about 4 hours and 5 minutes to reach Sultan Muhammad Kaharuddin III Airport at Sumbawa Besar City. Once arriving at the destination, they can simply find a local guide who can show the date and location where the festival occurs. As for the tip, it is recommended to find out the schedule first before heading to Sumbawa.
Where to Stay

Dewi Hotel
Samawa Rea Hotel
Balong Hotel

Latest News
Of the many tourist destinations in West Lombok Regency, West Nusa Tenggara, Mekarsari Narmada Park offers interesting tour packages. Tourists can try the Tri Sunah activity tour package. The Tri Sunnah are swimming, horse riding and archery. Mekarsari Narmada Park originated from the desire of local residents to take advantage of the existing agricultural potential. The management has built a new swimming pool on resident's land of 2,500 square besto the ide Pecatu village land of 4,500 square meters. The village land was turned into a park equipped with archery…
---
Kenawa Hill in Sumbawa Regency, West Nusa Tenggara Province Sumbawa Regency is part of West Nusa Tenggara Province and it consists of both land and sea natural attractions. The region even features an archipelago where many beautiful gilis or small islands reside. Kenawa Island is one of them and it is known for both the stunning sea and the famous Kenawa Hill. That means tourists should head to the island first if they want to explore and get on the top of the hill. At that spot, they can enjoy…
---
Sumbawa Regency is part of West Nusa Tenggara Province and it consists of both land and sea natural attractions. The region even features an archipelago where many beautiful gilis or small islands reside. Kenawa Island is one of them and it is known for both the stunning sea and the famous Kenawa Hill. That means tourists should head to the island first if they want to explore and get on the top of the hill. At that spot, they can enjoy several tourist activities like sightseeing, photography, camping, and short…
---
Well, some tourists are likely to look for unique vacation spots over time. It is because they want to get a new experience during the holidays. In this case, Sumbawa Regency offers Batu Bulan Dam! As the name suggests, the dam resides in Batu Bulan Village and it belongs to Moyo Hulu Sub-District. In terms of function, it is similar to other dams for sure. One thing that makes it different is related to the nuance. The beautiful landscape and merry atmosphere lure more people to enjoy sightseeing, photography, fishing,…
---