Ai Loang Beach in Sumbawa Regency, West Nusa Tenggara Province
---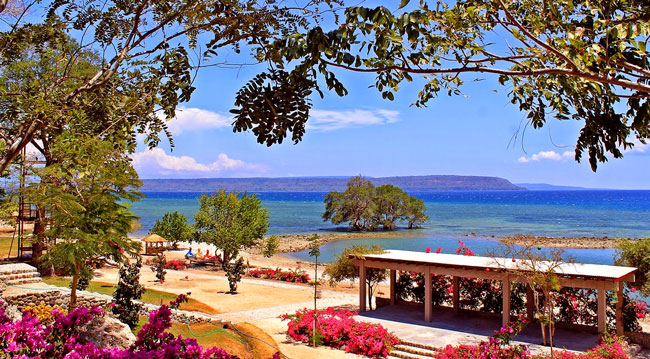 One of the most beautiful beaches in Sumbawa Regency is called Ai Loang. In the past, the locals call it Lamona Beach, actually. The location is in Penyaring Village at North Moyo Sub-District. The popularity is nice, so it has lots of visitors daily. What makes it different, though? Most people said that they were impressed by the beach's neat landscape and pristine environment. These two simple things make them return to Ai Loang Beach when the holiday comes, without a doubt. Aside from the comfortable atmosphere, lots of tourists come to the beach due to the strategic location. It is located near to Tanjung Menangis and other famous vacation spots, after all.
The Nuance
The first feature in Ai Loang Beach is definitely the white sandy shoreline. Next, it has calm waves and milky blue seawater. No wonder, most visitors are likely to enjoy water sports like swimming and snorkeling once they arrive at the location. Next, the beach features several big rocks that reside neatly on the shoreline. Not to mention several types of trees reside in that area. What is next? In the afternoon, the sun disappears beautifully. This sunset becomes an extra beautiful feature that tourists should not miss during the visit later!
Exploring Ai Loang Beach
Tourists' most favorite feature in Ai Loang Beach is the swimming spot which is not connected to the sea. That means people can enjoy swimming without worries about the waves. That means parents can supervise their kids better during the activity. Moreover, the beach employs several locals who may take care of visitors when it comes to safety. Aside from the excellent safety, that spot has a unique shape (which appears look like the shape of a heart).
The next great feature in Ai Loang Beach is the presence of various facilities especially the outbound area. Tourists can use different types of rides including the flying fox, for sure! No wonder, many parents with kids are often seen during weekends and holidays. After getting fun in the outbound facilities, tourists can simply head to the available gazebos and rest for a while before doing other fun things later. Not only the beach has neat gazebos, but it also provides food stalls, toilets, bike rental, and much more!
Another name is Tanjung Lamona Beach and it is considered one of the best beaches in Sumbawa Island. Due to the perfect beauty and amusing facilities, it keeps luring tourists over time. Even at night, visitors can enjoy more fun activities like singing in the karaoke facility. Well, tourists won't find this kind of fun on other beaches, right?
Nearby Attractions

Muara Pemancingan
Luair Beach
How to Get There
In order to get to Ai Loang Beach, tourists need to reach Sumbawa Regency first. The best way to get there is by airplane, actually. If tourists come from Jakarta City, they can take an airplane from Soekarno – Hatta International Airport and head to Sultan Muhammad Kaharuddin III Airport at Sumbawa. This flight takes about 4 hours and 5 minutes. Later, after reaching Sumbawa, their next destination is Penyaring Village at North Moyo Sub-District where the beach resides. The distance is 19.1 km, so this trip takes only 40 minutes. It can even be faster if tourists take Raberas Street.
Where to Stay


Latest News
Of the many tourist destinations in West Lombok Regency, West Nusa Tenggara, Mekarsari Narmada Park offers interesting tour packages. Tourists can try the Tri Sunah activity tour package. The Tri Sunnah are swimming, horse riding and archery. Mekarsari Narmada Park originated from the desire of local residents to take advantage of the existing agricultural potential. The management has built a new swimming pool on resident's land of 2,500 square besto the ide Pecatu village land of 4,500 square meters. The village land was turned into a park equipped with archery…
---
Kenawa Hill in Sumbawa Regency, West Nusa Tenggara Province Sumbawa Regency is part of West Nusa Tenggara Province and it consists of both land and sea natural attractions. The region even features an archipelago where many beautiful gilis or small islands reside. Kenawa Island is one of them and it is known for both the stunning sea and the famous Kenawa Hill. That means tourists should head to the island first if they want to explore and get on the top of the hill. At that spot, they can enjoy…
---
Sumbawa Regency is part of West Nusa Tenggara Province and it consists of both land and sea natural attractions. The region even features an archipelago where many beautiful gilis or small islands reside. Kenawa Island is one of them and it is known for both the stunning sea and the famous Kenawa Hill. That means tourists should head to the island first if they want to explore and get on the top of the hill. At that spot, they can enjoy several tourist activities like sightseeing, photography, camping, and short…
---
Well, some tourists are likely to look for unique vacation spots over time. It is because they want to get a new experience during the holidays. In this case, Sumbawa Regency offers Batu Bulan Dam! As the name suggests, the dam resides in Batu Bulan Village and it belongs to Moyo Hulu Sub-District. In terms of function, it is similar to other dams for sure. One thing that makes it different is related to the nuance. The beautiful landscape and merry atmosphere lure more people to enjoy sightseeing, photography, fishing,…
---