Saleh Bay in Sumbawa Regency, West Nusa Tenggara Province
---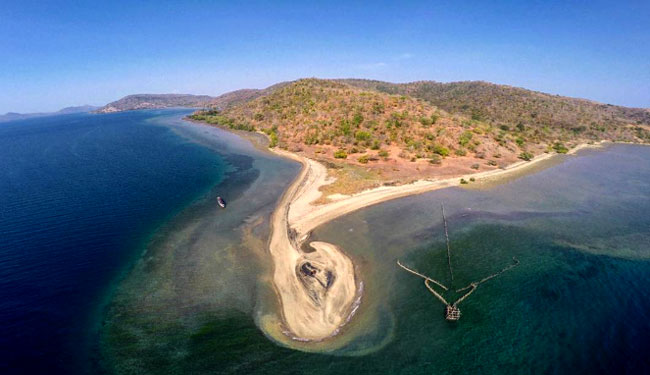 When it comes to Sumbawa Regency tourism, many tourists have been aware of Teluk Saleh or Saleh Bay. It becomes the home of small exotic gilis or islands, after all. That means the bay has attracted tons of tourists over time. Aside from the popularity and presence of beautiful small islands, the bay is also known for its wonderful sea panorama and underwater beauty. No wonder, most people would enjoy several activities like snorkeling, photography, diving, and sightseeing. Some people visit the Tanjung Saleh to conduct island hopping as well! It is because the accessibility is excellent, so tourists are able to get from one island to other islands.
The Nuance
Both the nuance and beauty is not inferior to that of Lombok Island. With several exotic islands on it, Saleh Bay has an unlimited option of attraction! In fact, each island offers a distinct beauty to visitors. As for the location, the bay is bordering with the Flores Sea. Due to the nice accessibility, the site also becomes a perfect location for fishing! The combination of abundant fishes and clear seawater satisfies everyone, for sure.
Exploring Saleh Bay
The first allure in Saleh Bay is the crystal clear waters. This beauty amazes everyone and never runs out popularity in fact. Tourists can enjoy the sea scenery while exploring Saleh Bay or during island hopping. This is why everyone must carry enough cash to rent a boat for the exploration. From the boat, tourists are even able to watch fishes and corals directly! Thanks to the clarity of seawater Indonesia. The sea looks like a giant aquarium, somehow. The only consideration is only the weather. Tourists should only come during a good weather.
The next allure in Saleh Bay is definitely the formation of small islands. Each of them has a unique beauty, so tourists should explore them all later. For example, Gili Meriam is suitable for camping and spending the comfy night in nature. One thing, tourists must come with enough equipment and supplies during island hopping. Importantly, they must find a reliable boat service first. As for a tour guide, it depends on each person's preference.
What is more? Well, Saleh Bay is known for the sunset. The good thing is tourists can enjoy these panoramas from different spots. Aside from the sun views, the next impressive sight is the famous Tambora Mountain on the horizon. It often becomes a background for photography, in fact. The next thing to enjoy when visiting Saleh Bay is water sports. It can be swimming, snorkeling, and diving.
Nearby Attractions

Moyo Island
Liang Island
Ngali Island
How to Get There
In order to reach Saleh Bay, tourists should head to Sumbawa Regency first. They can get there faster by airplane, actually. For example, the flight may take around 4 hours and 5 minutes from Soekarno – Hatta International Airport (Jakarta) to Sultan Muhammad Kaharuddin Airport in Sumbawa. Once arriving at Sumbawa Besar City, the next thing to do is to reach the local port and ride a boat to explore Saleh Bay!
Where to Stay

Maleo Moyo Seaside Resort

Latest News
Of the many tourist destinations in West Lombok Regency, West Nusa Tenggara, Mekarsari Narmada Park offers interesting tour packages. Tourists can try the Tri Sunah activity tour package. The Tri Sunnah are swimming, horse riding and archery. Mekarsari Narmada Park originated from the desire of local residents to take advantage of the existing agricultural potential. The management has built a new swimming pool on resident's land of 2,500 square besto the ide Pecatu village land of 4,500 square meters. The village land was turned into a park equipped with archery…
---
Kenawa Hill in Sumbawa Regency, West Nusa Tenggara Province Sumbawa Regency is part of West Nusa Tenggara Province and it consists of both land and sea natural attractions. The region even features an archipelago where many beautiful gilis or small islands reside. Kenawa Island is one of them and it is known for both the stunning sea and the famous Kenawa Hill. That means tourists should head to the island first if they want to explore and get on the top of the hill. At that spot, they can enjoy…
---
Sumbawa Regency is part of West Nusa Tenggara Province and it consists of both land and sea natural attractions. The region even features an archipelago where many beautiful gilis or small islands reside. Kenawa Island is one of them and it is known for both the stunning sea and the famous Kenawa Hill. That means tourists should head to the island first if they want to explore and get on the top of the hill. At that spot, they can enjoy several tourist activities like sightseeing, photography, camping, and short…
---
Well, some tourists are likely to look for unique vacation spots over time. It is because they want to get a new experience during the holidays. In this case, Sumbawa Regency offers Batu Bulan Dam! As the name suggests, the dam resides in Batu Bulan Village and it belongs to Moyo Hulu Sub-District. In terms of function, it is similar to other dams for sure. One thing that makes it different is related to the nuance. The beautiful landscape and merry atmosphere lure more people to enjoy sightseeing, photography, fishing,…
---