Teba Murin Waterfall in Sumbawa Regency, West Nusa Tenggara Province
---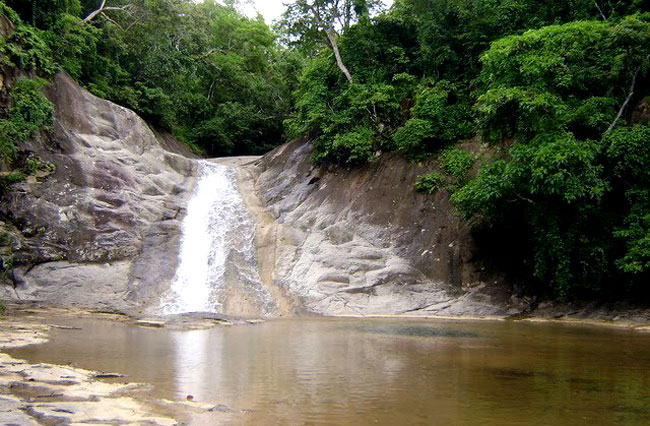 It would take much time if tourists want to explore all the tourist attractions in Sumbawa Regency. Well, they can start from the waterfalls. One of the best choices, in this case, is Teba Murin Waterfall! This unique waterfall is located in Pemanggong Village and belongs to Lenangguar Sub-District. The only challenge is related to the route. No parking area and road signs are available, so tourists must consider hiring a local guide in order to get to the location efficiently. Despite the issue, everyone would feel satisfied once they arrive at the site.
The Nuance
As mentioned earlier, Teba Murin Waterfall is unique. Unlike regular waterfalls, this one has a sloping appearance so tourists are able to play water comfortably. It feels like spending in a waterpark, in fact! The height is around 30 meters and the waterfall has a tilt of about 45 degrees. As for the water discharge, it is moderate (which is similar to that of water slides). What is more? Along the way to the location, tourists may pass through a teak forest and small river. This gives them an opportunity to conduct photography for a while, before continuing the trip to the site.
Exploring Teba Murin Waterfall
The sloping landscape makes Teba Murin Waterfall unique. Moreover, tourists are able to play water comfortably in that area. It feels like riding a water slide in a waterpark, in fact! Have no worries. The water discharge is considered safe, so kids can also enjoy the activity. Tourists only need to carry extra clothes as they are going to be wet later. Also, everyone should walk or explore the site carefully due to the slippery surface.
Aside from playing water, people come to Teba Murin Waterfall to watch a local festival. Villagers or those who live in Lenangguar Sub-District conduct Nimung Rame, which is a form of gratitude to the God. For tourists who want to witness the procession, though, it is recommended to find out the schedule first before visiting the site. The next procession is called Nganyang Rame or deer hunting. Have no worries. Tourists are allowed to join it, as long as they have obtained the permission.
After visiting Teba Murin Waterfall and joining the festival, tourists should not miss the chance to meet the locals (people who live in that area). Those people may offer numerous types of products including Tipar, traditional hats, and other attractive gifts to tourists. The good thing is the price is quite cheap. Later, before going home, it is also recommended to watch Jeruk Ai Oram procession!
Nearby Attractions

Mata Ai Abadi Waterfall
Peliwis Waterfall
How to Get There
The first destination is indeed Sumbawa Regency. Tourists can get there fast if they take an airplane, actually. What they need to do is to get an airplane service at Soekarno – Hatta International Airport and head to Sultan Kaharuddin III Airport at Sumbawa Besar City. This flight takes approximately 4 – 5 hours depending on the weather, though. After arriving at the capital of Sumbawa Regency, their next destination is Pemanggong Village at Lenangguar Sub-District where the waterfall resides. The distance is 37.9 km, so this trip may take about 1 hour and 4 minutes. As for the best route, it is recommended to take Sumbawa – Lunyuk Street.
Where to Stay


Latest News
Of the many tourist destinations in West Lombok Regency, West Nusa Tenggara, Mekarsari Narmada Park offers interesting tour packages. Tourists can try the Tri Sunah activity tour package. The Tri Sunnah are swimming, horse riding and archery. Mekarsari Narmada Park originated from the desire of local residents to take advantage of the existing agricultural potential. The management has built a new swimming pool on resident's land of 2,500 square besto the ide Pecatu village land of 4,500 square meters. The village land was turned into a park equipped with archery…
---
Kenawa Hill in Sumbawa Regency, West Nusa Tenggara Province Sumbawa Regency is part of West Nusa Tenggara Province and it consists of both land and sea natural attractions. The region even features an archipelago where many beautiful gilis or small islands reside. Kenawa Island is one of them and it is known for both the stunning sea and the famous Kenawa Hill. That means tourists should head to the island first if they want to explore and get on the top of the hill. At that spot, they can enjoy…
---
Sumbawa Regency is part of West Nusa Tenggara Province and it consists of both land and sea natural attractions. The region even features an archipelago where many beautiful gilis or small islands reside. Kenawa Island is one of them and it is known for both the stunning sea and the famous Kenawa Hill. That means tourists should head to the island first if they want to explore and get on the top of the hill. At that spot, they can enjoy several tourist activities like sightseeing, photography, camping, and short…
---
Well, some tourists are likely to look for unique vacation spots over time. It is because they want to get a new experience during the holidays. In this case, Sumbawa Regency offers Batu Bulan Dam! As the name suggests, the dam resides in Batu Bulan Village and it belongs to Moyo Hulu Sub-District. In terms of function, it is similar to other dams for sure. One thing that makes it different is related to the nuance. The beautiful landscape and merry atmosphere lure more people to enjoy sightseeing, photography, fishing,…
---