Liang Petang in Sumbawa Regency, West Nusa Tenggara Province
---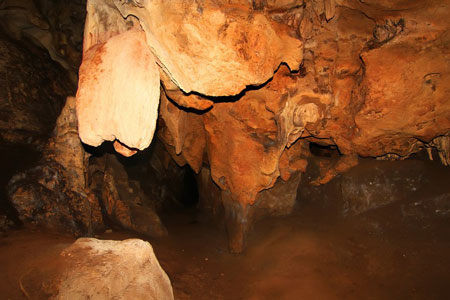 Liang is a word used by Indonesian local people in Sumbawa Regency to name a cave. Speaking of caves, the region has some interesting spots for tourists to visit. One of them is called Liang Petang! The location is near to Liang Bukal and it resides in Moyo Hulu Sub-District. To be exact, the cave belongs to Batu Tering Village. Some people also call it Gua Malam or the night cave, actually. Due to the vastness and beautiful interior, the cave suits those who love an exploration, adventure, and photography. A trip to the cave even gives a special meaning to it.
The Nuance
As the name suggests, Liang Petang has a dark and damp nuance. This cave is both unique and historical, though. Due to the secluded location (in the ridge of a mountain and midst of a forest), tourists are able to enjoy trekking thoroughly when heading to the site. They may even meet a beautiful river called Tiu Sekat later. From the village, the trekking takes about 25 minutes to reach the cave! In terms of size, the cave's mouth is small. Once getting inside, though, tourists may feel the vastness right away.
Exploring Liang Petang
The dark atmosphere welcomes those who get in the cave. One thing that makes the cave different is the presence of unique objects inside. Both stalagmites and stalactites are indeed seen in the cave. What is more? There is "Batu Mayat" or the corpse stones. The locals gave the name due to the unique appearance of those stones, which is similar to deceased bodies. Due to the uncommon shape, it often becomes an object for photography!
The next important feature in Liang Petang is called Ruang Tapa or the hermitage site. As the name suggests, this special room was once used by a theologian and his followers to conduct hermitage. They even lived in the cave some while. Located near to Ruang Tapa, tourists may also find a small sacred fountain! There is also an access to reach another room called Alang, where a weaving woman sculpture resides. No one is brave enough to enter this room, though. It is said the room and the statue emits a strange aura that creeps visitors.
Well, for the sake of an efficient exploration, tourists should only consider getting in Liang Petang with a local guide. This person should know both direction and thorough information regarding the cave, though. This way, tourists won't get lost during caving. Not to mention they may gather reliable information and stories related to the cave.
Nearby Attractions

Dalam Loka Museum
Peliwis Waterfall
Desa Batu Dulang Village
Teba Murin Waterfall
Batu Bulan Dam
Semongkat Tourist Site
Telkan Waterfall
Splash Waterpark
How to Get There
First things come first. Tourists should head to Sumbawa Regency by airplane. From Jakarta City (Soekarno – Hatta International Airport), for example, the flight may take around 4 hours and 5 minutes to get to Sumbawa Besar City. Once arriving at the destination, they can simply take Sumbawa – Lunyuk Street and head to Liang Petang at Batu Tering Village Right away. The distance is around 40 km, so this trip may take about 1 hour.
Where to Stay


Latest News
Of the many tourist destinations in West Lombok Regency, West Nusa Tenggara, Mekarsari Narmada Park offers interesting tour packages. Tourists can try the Tri Sunah activity tour package. The Tri Sunnah are swimming, horse riding and archery. Mekarsari Narmada Park originated from the desire of local residents to take advantage of the existing agricultural potential. The management has built a new swimming pool on resident's land of 2,500 square besto the ide Pecatu village land of 4,500 square meters. The village land was turned into a park equipped with archery…
---
Kenawa Hill in Sumbawa Regency, West Nusa Tenggara Province Sumbawa Regency is part of West Nusa Tenggara Province and it consists of both land and sea natural attractions. The region even features an archipelago where many beautiful gilis or small islands reside. Kenawa Island is one of them and it is known for both the stunning sea and the famous Kenawa Hill. That means tourists should head to the island first if they want to explore and get on the top of the hill. At that spot, they can enjoy…
---
Sumbawa Regency is part of West Nusa Tenggara Province and it consists of both land and sea natural attractions. The region even features an archipelago where many beautiful gilis or small islands reside. Kenawa Island is one of them and it is known for both the stunning sea and the famous Kenawa Hill. That means tourists should head to the island first if they want to explore and get on the top of the hill. At that spot, they can enjoy several tourist activities like sightseeing, photography, camping, and short…
---
Well, some tourists are likely to look for unique vacation spots over time. It is because they want to get a new experience during the holidays. In this case, Sumbawa Regency offers Batu Bulan Dam! As the name suggests, the dam resides in Batu Bulan Village and it belongs to Moyo Hulu Sub-District. In terms of function, it is similar to other dams for sure. One thing that makes it different is related to the nuance. The beautiful landscape and merry atmosphere lure more people to enjoy sightseeing, photography, fishing,…
---