Sarae Nduha in Dompu Regency, West Nusa Tenggara Province
---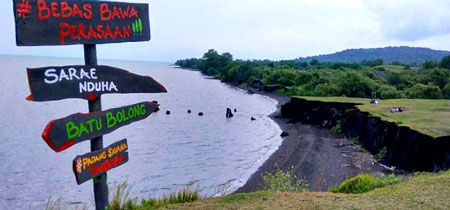 Sara Nduha has attracted lots of tourists these days. This beautiful vacation spot is located near to the border between Dompu and Sumbawa Regency, so it has an easy accessibility and popularity. To be exact, the location is in Doropeti Village and it belongs to Pekat Sub-District. Another name is Ombo Beach and it resides near to Tambora Mountain and Doro Ncanga Tourist Site. Even though the local government hasn't inaugurated it as an official tourist spot yet, more people have been visiting it over time. They are impressed with its landscape, after all.
The Nuance
Sarae Nduha Beach consists of two prime attractions or nuances. The first one is definitely the exotic black sandy shoreline. The waves are small and the shore features some tall coral reefs as well. The second attraction is the tall cliff that resides behind the shoreline. The good thing is tourists are able to climb it and enjoy sightseeing from above. The surface of the cliff is grassy and plain. No wonder, tourists often build a tent and enjoy camping there. From the cliff, the sea scenery looks amusing too! That spot indeed becomes the best location to conduct photography and relaxation.
Exploring Sarae Nduha
Tourists have a different reason for visiting Sarae Nduha. Most of them want to enjoy water sports, though. These include swimming and even surfing! It is because the beach features both strong and calm waves. Tourists only need to find the right spot to do either surfing or swimming. For those who don't like water sports, in this case, they can do other activities including beach walking and photography. Thanks to the beautiful landscape and panorama.
The next thing to do is outbound or sports activities. It is because Sarae Nduha has a vast hill where tourists can do jogging, yoga, and much more! Moreover, there is the cliff for sightseeing and photography. It takes some efforts and time to reach the top of the cliff, though. On the same spot, tourists can enjoy sightseeing! The peaceful sea on the horizon soothes their mind and the breezy wind of the sea relieves their soul, without a doubt.
It is true Sarae Nduha doesn't feature sophisticated facilities yet. However, the pristine nuance and clean environment disappoint no one. Knowing this excellent nature, outsiders often drop by and spend their weekend in that area. Along the way to the location, moreover, tourists may see a beautiful savanna and the majestic Tambora Mountain on the horizon. What a great trip it is.
Nearby Attractions

Tambora National Park
Hodo Beach Tourism
How to Get There
From Soekarno – Hatta International Airport at Jakarta City, a flight to Sumbawa Besar City (Sultan Kaharuddin International Airport) may take around 4 hours and 5 minutes. Once arriving at Sumbawa Besar, tourists' next destination is Doropeti Village at Pekat Sub-District where the beach is located. The distance is 226 km, so the trip may take approximately 226 km. As for the best route, it is recommended to take Diponegoro Street or Lintas Sumbawa – Bima Street.
Where to Stay


Latest News
Of the many tourist destinations in West Lombok Regency, West Nusa Tenggara, Mekarsari Narmada Park offers interesting tour packages. Tourists can try the Tri Sunah activity tour package. The Tri Sunnah are swimming, horse riding and archery. Mekarsari Narmada Park originated from the desire of local residents to take advantage of the existing agricultural potential. The management has built a new swimming pool on resident's land of 2,500 square besto the ide Pecatu village land of 4,500 square meters. The village land was turned into a park equipped with archery…
---
Kenawa Hill in Sumbawa Regency, West Nusa Tenggara Province Sumbawa Regency is part of West Nusa Tenggara Province and it consists of both land and sea natural attractions. The region even features an archipelago where many beautiful gilis or small islands reside. Kenawa Island is one of them and it is known for both the stunning sea and the famous Kenawa Hill. That means tourists should head to the island first if they want to explore and get on the top of the hill. At that spot, they can enjoy…
---
Sumbawa Regency is part of West Nusa Tenggara Province and it consists of both land and sea natural attractions. The region even features an archipelago where many beautiful gilis or small islands reside. Kenawa Island is one of them and it is known for both the stunning sea and the famous Kenawa Hill. That means tourists should head to the island first if they want to explore and get on the top of the hill. At that spot, they can enjoy several tourist activities like sightseeing, photography, camping, and short…
---
Well, some tourists are likely to look for unique vacation spots over time. It is because they want to get a new experience during the holidays. In this case, Sumbawa Regency offers Batu Bulan Dam! As the name suggests, the dam resides in Batu Bulan Village and it belongs to Moyo Hulu Sub-District. In terms of function, it is similar to other dams for sure. One thing that makes it different is related to the nuance. The beautiful landscape and merry atmosphere lure more people to enjoy sightseeing, photography, fishing,…
---