Taman Wisata Lembah Hijau in Sumbawa Regency, West Nusa Tenggara Province
---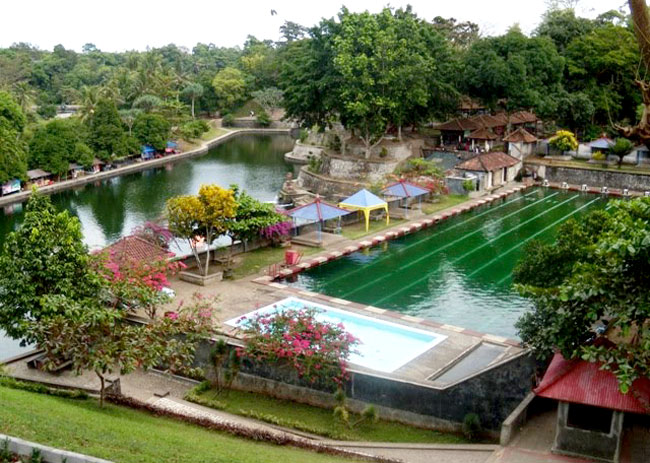 Perhaps some tourists have heard the famous vacation spot called Taman Wisata Lembah Hijau, which is located in Sumbawa Regency. This recreational park resides in Karang Dima Village and belongs to Labuhan Badas Sub-District. In terms of region, though, it also resides in the border of East Lombok Regency. No wonder, people from both the regions often come to the park to enjoy relaxation, family recreation, and much more! Some people call it Ijobalit Park, actually. For the information, this name is popular among those who live in East Lombok and those who live outside Sumbawa Regency.
The Nuance
In terms of name, "Lembah Hijau" means the green valley. As people may expect, the park features green beautiful landscapes and many types of trees or plants. Not to mention the park also comes with many colorful flowers. The next recognizable features are several soothing ponds or artificial lakes. Plus, the park has a kid's playground where children can play comfortably during the visit. No wonder, it becomes local families' favorite destination to spend weekends or holidays with their kids. As for the nuance, the park offers a peaceful atmosphere and clean environment!
Exploring Taman Wisata Lembah Hijau
In a nutshell, Taman Wisata Lembah Hijau is suitable for a family recreation. It becomes an excellent alternative to waterparks or other recreational sites as well. No wonder, many local families are often seen on the site in the afternoon during weekends or holidays. They come with their kids and spend a relaxing recreation together. Some of them even carry snacks and drinks to the park and enjoy eating together with their families! What they need to pay attention to is the environment. Littering is prohibited, without a doubt.
Aside from relaxation, people visit Taman Wisata Lembah Hijau in order to relax. They take advantage of the lush trees and green plants that reside in that area. Even several types of flowers grow there. Not to mention the park features beautiful ponds and Berugak (traditional gazebos). Not to mention the ponds have crystal clear water! This explains why most people are likely to get in it right away. Unfortunately, the keepers prohibit swimming so tourists must not break the rules.
Another reason to visit Taman Wisata Lembah Hijau is to spend a romantic vacation with a spouse or someone special. Both the beauty and comfort satisfy visitors, after all. After spending some time in the park, tourists should drop by in the nearby village and meet the locals. It gives them a chance to taste delicious local foods too!
Nearby Attractions

Goa Beach
Moyo Dive Center
How to Get There
First things come first. Tourists should head to Sumbawa Regency regardless of where they come from. For example, a flight from Soekarno – Hatta International Airport at Jakarta City takes approximately 4 hours and 5 minutes to Sultan Muhammad Kaharuddin Airport at Sumbawa Regency. Later, after arriving at Sumbawa Besar City, they can simply take Garuda and Lintas Sumbawa Street to get to Taman Wisata Lembah Hijau. Have no worries. The distance is 6.5 km, so the trip takes approximately 10 minutes only.
Where to Stay

Pondok Daun Homestay
Kencana Hotel

Latest News
Of the many tourist destinations in West Lombok Regency, West Nusa Tenggara, Mekarsari Narmada Park offers interesting tour packages. Tourists can try the Tri Sunah activity tour package. The Tri Sunnah are swimming, horse riding and archery. Mekarsari Narmada Park originated from the desire of local residents to take advantage of the existing agricultural potential. The management has built a new swimming pool on resident's land of 2,500 square besto the ide Pecatu village land of 4,500 square meters. The village land was turned into a park equipped with archery…
---
Kenawa Hill in Sumbawa Regency, West Nusa Tenggara Province Sumbawa Regency is part of West Nusa Tenggara Province and it consists of both land and sea natural attractions. The region even features an archipelago where many beautiful gilis or small islands reside. Kenawa Island is one of them and it is known for both the stunning sea and the famous Kenawa Hill. That means tourists should head to the island first if they want to explore and get on the top of the hill. At that spot, they can enjoy…
---
Sumbawa Regency is part of West Nusa Tenggara Province and it consists of both land and sea natural attractions. The region even features an archipelago where many beautiful gilis or small islands reside. Kenawa Island is one of them and it is known for both the stunning sea and the famous Kenawa Hill. That means tourists should head to the island first if they want to explore and get on the top of the hill. At that spot, they can enjoy several tourist activities like sightseeing, photography, camping, and short…
---
Well, some tourists are likely to look for unique vacation spots over time. It is because they want to get a new experience during the holidays. In this case, Sumbawa Regency offers Batu Bulan Dam! As the name suggests, the dam resides in Batu Bulan Village and it belongs to Moyo Hulu Sub-District. In terms of function, it is similar to other dams for sure. One thing that makes it different is related to the nuance. The beautiful landscape and merry atmosphere lure more people to enjoy sightseeing, photography, fishing,…
---