Liang Bukal in Sumbawa Regency, West Nusa Tenggara Province
---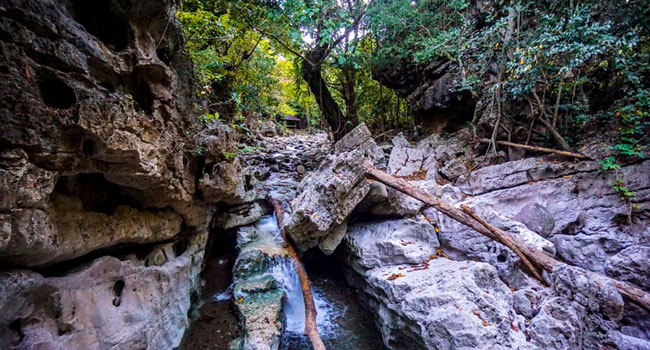 It is likely tourists would spend much time during a vacation in Sumbawa Regency. The prime reason is indeed the presence of tons of natural attractions, including caves. One of them can be found in Sempe Village at Moyohulu Sub-District, which is called Liang Bukal or Bukal Cave. This secluded cave attracts tourists due to the presence of bats and attractive cliff landscape, actually. People are also interested to visit it due to the trekking opportunity. Everyone needs to spend some stamina and time to reach the location, after all. Here is further information regarding the cave.
The Nuance
When it comes to nuance, Liang Bukal offers a serene atmosphere. It is because the location is in the midst of a forest and on the hill. Not to mention the ambiance is refreshing and soothing. Unlike regular caves, this one resides on a rocky cliff by the river. It looks like a prehistoric landscape, in fact! The depth is moderate and it becomes the home of hundreds of bats during a specific time, which is between June and September. At the time, tourists are able to witness flying bats that go out of the cave to look for foods.
Exploring Liang Bukal
The first thing that tourists can do in Liang Bukal is definitely photography. They simply stand in front of the cliff and take some photos of the cave from afar. For more photos, they should get in the cave! Have no worries. The cave is not too deep, so, everyone can explore it comfortably. What they need are only a flashlight and a local guide service. Beginners should get guidance during caving, so they can avoid unwanted things like getting lost.
As mentioned before, Liang Bukal also holds lots of bats and they may go out the cave beautifully. Thus, tourists should visit the cave starting from June to September. Not only tourists can see them flying in a group directly, but they have the chance to take photos of these animals too! Due to this amazing phenomenon, the locals have established an entrance fee to all visitors. Have no worries. The ticket is considered quite cheap.
Once exploring Liang Bukal, tourists should visit nearby attractions like Liang Petang and Sarkofa. They even have the time to drop by at the nearby village and interact with villagers. If they have enough cash, they must buy some local foods and rent a tour guide later. One thing, they must pass through a difficult route and lush tropical vegetation in order to reach the site.
Nearby Attractions

Desa Batu Dulang Village
Teba Murin Waterfall
Batu Bulan Dam
Dalam Loka Museum
Semongkat Tourist Site
Telkan Waterfall
Splash Waterpark
Peliwis Waterfall
How to Get There
From Soekarno – Hatta International Airport of Indonesia, tourists can directly head to Sumbawa Regency by airplane. Their destination is Sultan Muhammad Kaharuddin Airport and the flight may take around 4 hours and 5 minutes. Once they arrive at Sumbawa Besar City, the next destination is Sempe Village at Moyohulu Sub-District. The distance is 38.6 km, so the trip may take around 1 hour and 4 minutes. This trip becomes faster if tourists take Sumbawa – Lunyuk Street, though.
Where to Stay


Latest News
Of the many tourist destinations in West Lombok Regency, West Nusa Tenggara, Mekarsari Narmada Park offers interesting tour packages. Tourists can try the Tri Sunah activity tour package. The Tri Sunnah are swimming, horse riding and archery. Mekarsari Narmada Park originated from the desire of local residents to take advantage of the existing agricultural potential. The management has built a new swimming pool on resident's land of 2,500 square besto the ide Pecatu village land of 4,500 square meters. The village land was turned into a park equipped with archery…
---
Kenawa Hill in Sumbawa Regency, West Nusa Tenggara Province Sumbawa Regency is part of West Nusa Tenggara Province and it consists of both land and sea natural attractions. The region even features an archipelago where many beautiful gilis or small islands reside. Kenawa Island is one of them and it is known for both the stunning sea and the famous Kenawa Hill. That means tourists should head to the island first if they want to explore and get on the top of the hill. At that spot, they can enjoy…
---
Sumbawa Regency is part of West Nusa Tenggara Province and it consists of both land and sea natural attractions. The region even features an archipelago where many beautiful gilis or small islands reside. Kenawa Island is one of them and it is known for both the stunning sea and the famous Kenawa Hill. That means tourists should head to the island first if they want to explore and get on the top of the hill. At that spot, they can enjoy several tourist activities like sightseeing, photography, camping, and short…
---
Well, some tourists are likely to look for unique vacation spots over time. It is because they want to get a new experience during the holidays. In this case, Sumbawa Regency offers Batu Bulan Dam! As the name suggests, the dam resides in Batu Bulan Village and it belongs to Moyo Hulu Sub-District. In terms of function, it is similar to other dams for sure. One thing that makes it different is related to the nuance. The beautiful landscape and merry atmosphere lure more people to enjoy sightseeing, photography, fishing,…
---