Nelayan Museum in Sumbawa Regency, West Nusa Tenggara Province
---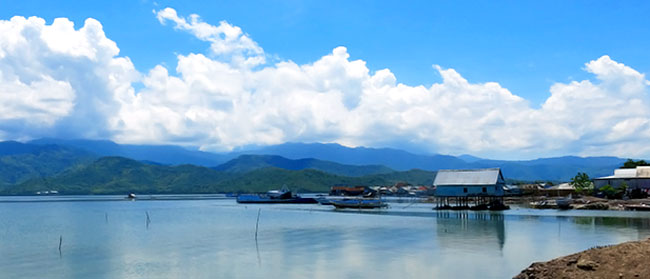 Those who have visited Sumbawa Regency should have heard about Bungin Island. Unlike others, the island has both sea and land accessibility! That means tourists are able to get to the island by either boat or land transportation services. The next thing that makes it popular is the presence of several interesting vacation spots including Nelayan Museum. "Nelayan" means fisherman in Bahasa (Indonesia), actually. In terms of function, the museum has become a study center of local marine's life. Also, it gives information and education to visitors regarding local fishermen's life! No wonder, it turns into a new vacation spot in Sumbawa Regency these days.
The Nuance
Some people perhaps may wonder regarding the exact location of Nelayan Museum. Well, it resides by the shore. The museum looks like a regular local building and applies a "Rumah Panggung" design. That means the guests need to use the stairs in order to get into the museum. As for the nuance, it feels peaceful due to the presence of sea scenery on the horizon. The site even features a vast parking area, so tourists are able to place either their car or motorcycle neatly in that area.
Exploring Nelayan Museum
Before entering the museum, tourists usually take some photos of the building first using either their camera or smartphone. It is because the design is different than modern houses. Visitors can even get under the museum, in order to avoid the heat of the sun. When it comes to the number of visitors, it is considered moderate. Most visitors are those who drop by before heading to Bungin Island. They are interested to learn more about local marine life, as well, actually.
Still, the best thing to do in Nelayan Museum is none other than to get in it and learn available information there. The guests are able to learn the marine heritage of the locals and those of the Indonesia nation. For those who come at the right time, they are able to join and watch numerous types of marine events. In this case, it is recommended to hire a local guide first before visiting the museum. This person may give information regarding those events and any objects that are stored in the museum, so it is going to be a worthy expense.
After visiting Nelayan Museum, tourists should not forget to reach Bungin Island too. The location is quite near, after all. They can relieve stresses and rest for a while in that island while collecting some photos of locals' activities. As for the tip, it is recommended to carry enough cash to buy foods and supplies during the trip later!
Nearby Attractions

Saringi Island
Panjang Island
Bungin Island
How to Get There
For those coming from Jakarta City, tourists only need to find a reliable airplane at Soekarno -Hatta International Airport and head to Sumbawa Regency at Sultan Muhammad Kaharuddin Airport. According to the locals, this flight may take around 4 hours and 5 minutes. Once arriving at the destination, tourists can take Lintas Sumbawa Street and head to Nelayan Museum right away. The distance is 71.1 km, so the trip may take around 1 hour and 40 minutes.
Where to Stay

Trapung Inn
Amory Homestay

Latest News
Of the many tourist destinations in West Lombok Regency, West Nusa Tenggara, Mekarsari Narmada Park offers interesting tour packages. Tourists can try the Tri Sunah activity tour package. The Tri Sunnah are swimming, horse riding and archery. Mekarsari Narmada Park originated from the desire of local residents to take advantage of the existing agricultural potential. The management has built a new swimming pool on resident's land of 2,500 square besto the ide Pecatu village land of 4,500 square meters. The village land was turned into a park equipped with archery…
---
Kenawa Hill in Sumbawa Regency, West Nusa Tenggara Province Sumbawa Regency is part of West Nusa Tenggara Province and it consists of both land and sea natural attractions. The region even features an archipelago where many beautiful gilis or small islands reside. Kenawa Island is one of them and it is known for both the stunning sea and the famous Kenawa Hill. That means tourists should head to the island first if they want to explore and get on the top of the hill. At that spot, they can enjoy…
---
Sumbawa Regency is part of West Nusa Tenggara Province and it consists of both land and sea natural attractions. The region even features an archipelago where many beautiful gilis or small islands reside. Kenawa Island is one of them and it is known for both the stunning sea and the famous Kenawa Hill. That means tourists should head to the island first if they want to explore and get on the top of the hill. At that spot, they can enjoy several tourist activities like sightseeing, photography, camping, and short…
---
Well, some tourists are likely to look for unique vacation spots over time. It is because they want to get a new experience during the holidays. In this case, Sumbawa Regency offers Batu Bulan Dam! As the name suggests, the dam resides in Batu Bulan Village and it belongs to Moyo Hulu Sub-District. In terms of function, it is similar to other dams for sure. One thing that makes it different is related to the nuance. The beautiful landscape and merry atmosphere lure more people to enjoy sightseeing, photography, fishing,…
---